Australian Wildflower Seeds Pty Ltd:
A wholly-owned Australian company located in Western Australia.
We pack and distribute a range of Australian wildflower seeds in beautiful retail packets.
Available via this website for gardeners, visitors and gift-seekers in Australia and overseas.
This website provides useful information about the wildflowers of Australia and their cultivation.
Please feel free to browse our General Sowing Guide or other notes about our fabulous product range, from the other pages of our website.
** Most of our products are suitable for export – click here for more information.
Our main product range comprises of:
Presentation seed packets
Seven-pack Gift Folders
Everlasting bulk seed packs - available in approx. 1,500, 4,000 and 9,000 seeds.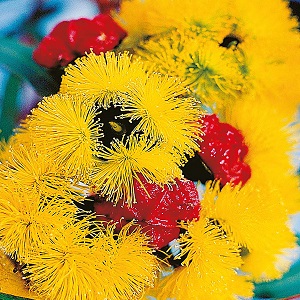 In addition to our "presentation" range, we can obtain a wide range of Australian native seeds in small packets, on request. It is always most helpful if you can use the botanical names for the plants you require, since many different plants can have the same Common Name.
Australia generally has a high level of plant biodiversity, with Western Australia in particular having the greatest diversity and is aptly known as the "Wildflower State".
Thanks for the great service and solving our problem (gift ideas for relatives in Pennsylvania, USA). One can take only so many stuffed koalas and boomerangs as gifts. Will let you know how they propagate.
March 2019 – Alexander Barski, Sydney, NSW